ABOUT US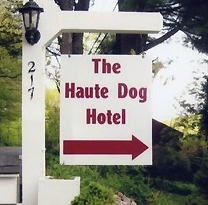 Welcome to the Haute Dog Hotel where dogs are free to roam and play. The word kennel is never spoken here.  We are a dog hotel and proudly serve our guests.  We accommodate our guests' needs from hot meals, snacks and desserts.   In the summer the pool is open.  Beds and blankets are always available.  Most of our guests prefer to sleep in the den, however, they can wander over to the TV room at any time.
We decided to open the Haute Dog Hotel after looking for places to board our pet when going on a vacation.  After visiting many dog boarding providers we were terrified of the thought of our beloved dog being put into a small cage for most of the stay.  In fact, we couldn't find any open format boarding in the area.  We knew we had to do something and we knew we weren't the only ones that wanted our dogs to have a great time during their vacation while we're on our vacation.
All guests are treated with respect.  Kind positive words are always used. Our special needs and elderly guests get a helping hand.  Handicap equipment is on site and easily accessible.
Our dog savvy staff will wipe eyes and drool!  Games of catch and tug are a daily event.  Our guests enjoy a cage free environment with endless play and socialization.
As with any good hotel, some of our guests have individual needs.  The following are just some examples of requests we've fulfilled:
-A daily meal of freshly prepared sautéed chicken -Hair combed into pigtails after breakfast -Pajamas before bedtime? You bet! -Singing "You are My Sunshine" during each meal
There is never an extra charge.  The Haute Dog Hotel is a full service hotel for dogs.